:: Home » Products » GranCaffè Coffee beans


:: GRANCAFFE' COFFEE BEANS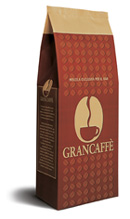 The Grancaffè blend provides the perfect balance between the highest quality coffees, processed according to optimal roasting and packaging methods.

Grancaffè brings together a pungent aroma and a pleasing flavour and fragrance, and is certain to meet the approval of the most demanding coffee tasters, selectors and connoisseurs.

If your customers love coffee, your café deserves Grancaffe.